Kenya Safari and Beach Special: 11 days
This 11-days special offer combines a safari and a beach holiday to an unforgettable adventure. It takes you to the wonders of the Maasai Mara with its huge variety of wildlife. Ýou get the chance of a private and exclusive safari, including the opportunity watching the wildebeest migration certain times of the year. The second week you relax on the beaches of the beautiful Kenyan coast. Time for chilling, a massage, delicious food, cocktails and much more ...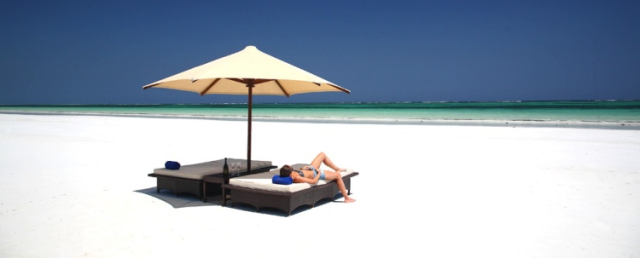 Day 1:
On arrival in Nairobi you are transferred in a private car to Nairobi Wilson airport in time for the scheduled flight to Maasai Mara. In Maasai Mara National Reserve you meet your driver and guide to be transferred to Kilima Camp where you stay 3 nights. All meals, house drinks, game drives, guided bush walks and park fees are included.
Kilima Camp is located on top of the Siria escarpment which runs down the western side of the Masai Mara. The camp offers fantastic panoramic views across the Maasai Mara. You stay in luxury tents with ensuite bathrooms. Game drives from Kilima Camp descend down to the Mara Triangle which is known for its rich variety of wildlife.
Day 2 - 3:
Enjoy two full days exploring the Maasai Mara. You get the opportunity to watch a huge variety of wildlife and birdlife. If you wish to see the bush on foot, we recommend doing it early in the morning. A walk in the bush is the perfect way to understand the smaller aspects of the Massai Mara.
Day 4:
Enjoy your final game viewing activity this morning. After lunch you reach the airstrip in time for the scheduled flight to the Kenyan coast. On arrival in Diani you are transferred in a private car to Almanara Luxury Villas where you stay 7 nights with all meals and house drinks included.
Day 5 - 10:
Enjoy 6 days relaxing on the unspoilt beautiful beaches at Almanara, which are located right next to the crystal clear waters and pearly-white sands of Diani Beach. An exclusive collection of private villas lay amongst the lush green gardens, providing guests with the ultimate experience in African Beach Holidays. Wake up to the sound of exotic birds, and end your day with a view of the sunset. All villas offer air-conditioning, bathroom and private roof-top terrace. Decorated with local artwork and bespoke furniture, the open-plan dining and living areas offer you the chance to relax in the cool indoors of your villa; or relax beside the pool.
Day 11:
In the afternoon you are transferred in a private car to Mombasa Moi International airport where the trip ends.