Kenya, Great Rift Valley Safari: 8 days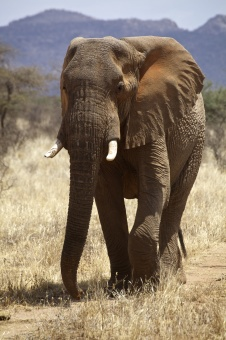 The Great Rift Valley is a large trough that runs through Kenya from north to south. It is part of the Gregory Rift, the eastern branch of the East African Rift, which starts in Tanzania to the south and continues northward into Ethiopia. This 8-day adventure combines the Aberdare National Park, the Samburu National Reserve, the Lake Nakuru National Park and the Maasai National Reserve to an unforgettable and unique safari experience.
The Maasai Mara National Reserve is a large game reserve in south-western Kenya, contiguous with the Serengeti National Park in Tanzania. It is named after the Maasai people, the traditional inhabitants of the area. Lake Nakuru National Park is famous for its flamingos nesting along the shores. Wildlife in Aberdare National Park can be easily observed including the lion, leopard, african elephant, african hunting dog, giant forest hog, bushbuck, mountain reedbuck, waterbuck, cape buffalo, suni, side-striped jackal, eland, duikers olive baboon, black and white Colobus monkey, and sykes monkey. In Samburu National Reserve you can watch a wide variety of wildlife and birds. All three big cats, lion, cheetah and leopard, can be found here, as well as elephants, buffaloes and hippos.
Day 1:
Depart Nairobi to the Aberdare National Park & check in at The Ark Lodge for overnight game viewing from your tree hotel.
Day 2:
Sweetwaters Game Sanctuary and visit a chimpanzee orphanage.
Day 3:
North to Samburu, Buffalo Springs & Shaba National Reserve, visit Samburu people who are related to the Maasai. The Samburu are semi-nomadic pastoralists who herd mainly cattle but also keep sheep, goats and camels. Explore wildlife like Grévy's zebra, the long-necked gerenuk and the reticulated giraffe.
Day 4:
Enjoy a full day exploring the Samburu National Reserve.
Day 5:
Via Great Rift Valley to Lake Nakuru National Park which is best known for its thousands, sometimes millions of flamingos nesting along the shores. Enjoy a safari drive with the chance to watch flamingoes, giraffes, buffaloes, waterbucks, lions and rhinos.
Day 6:
Maasai Mara National Reserve, afternoon take a game-viewing drive and visit Maasai Community.
Day 7:
Enjoy a full day exploring the Maasai Mara National Reserve.
Day 8:
Return to Nairobi for city tour and souvenir shopping, end.