Classical Historic Route Northern Ethiopia: 14 days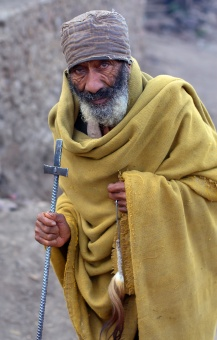 Ethiopia is one of the oldest countries in the world and the history can be traced back to around 1000 BC. It was never colonised, apart from the short Italian occupation (1936 - 1941). The people are amazing and wonderful, especially the children. Particularly in the north they are open-hearted, the majority live in rural areas. Lalibela is famous for its monolithic rock-cut churches and one of Ethiopia's holiest cities. Each church has its own resident monk who appears in the doorway in colorful brocade robes.
The Kingdom of Aksum was an important trading nation in the area of northern Ethiopia and Eritrea. The Axumites erected a number of large stelae, which served a religious purpose in pre-Christian times. One of these granite columns is the largest such structure in the world. Its ancient capital, also called Aksum, was in northern Ethiopia. The Kingdom used the name "Ethiopia" as early as the 4th century. It is also the alleged resting place of the Ark of the Covenant and the purported home of the Queen of Sheba.
14 days Classical Historic Route Northern Ethiopia.pdf
Day 1 Addis Ababa – Finote Selam:
North 378km via Gulele, Chancho & detour to visit Debre Libanos Monastery & Waterfalls, lunch at Ethio-German Park Hotel & via Jimma Valley Gorge, Dejen, Debre Markos in to Finote Selam.
O/n Finote Selam
Day 2 Finote Selam – Bahir Dar:
Northwest 173km via Injibara, Dangla, Meshenti in to Bahir Dar for Boat Excursion visiting Island Monasteries such as Bete Selassie & Tekla Haimanot, Dega Estefanos, Debre Maryam, Tana Cherkos, Kebran Gabriel, Ura Kidane Meret, Bete Maryam, Narga Selassie, Azuwa Maryam, Entos Eyesu & Zeghie Satekela Museum.
O\n Bahir Dar
Day 3 Bahir Dar – Gondar:
176km north via Wereta, Azezo in to Gondar & visit Fasiladas' Palace, Palace of Iyasu I, other Southern Buildings, Northern Buildings & Atatami Mikael Church.
O\n Gondar
Day 4 Gondar – Debark:
104km north via Amba Giorgis, Gedebge in to Debark, purchase entrance tickets in Debark Bale Mt. Park Office & visit Simien National Park.
O\n Debark
Day 5 Debark – Aksum:
251km north via Chew Ber, May Tsemre, Tekeze River, Inda Aba Guna, Shire, Wkro in to Aksum.
O/n Aksum
Day 6 Aksum:
Northern Stelae, St Mary of Zion Churches, Tombs of Kings Kaleb & Gebre Meskel, Gobodura Hill, Abba Pentalewon, Dungur (Queen of Sheba) Palace.
O/n Aksum
Day 7 Aksum – Gheralta:
167km southeast via Adwa in to Hawzen to visit Gheralta Cluster excursions.
O\n Gheralta
Day 8 Gheralta – Mek'ele:
West in to Freweyni & visit Adi Kasho Medhane Alem, south via Negash in to Wukro & visit Wukro Chirkos & in to Mek'ele.
O/n Mek'ele
Day 9 Mek'ele – Weldiya:
Visit Mek'ele Market & 271km south via May Keyih, Ambalage, Korem, Alamata in to Weldiya.
O/n Weldiya
Day 10 Weldiya – Lalibela:
Northwest 170km via Gashma in to Lalibela & visit Rock-Hewn Churchs of Bet Medhane Alem & Bet Maryam.
O/n Lalibela
Day 11 Lalibela:
Visit Bet Medhane Alem, Bet Maryam, Bet Meskel, Bet Danaghel, Gedamit Maryam, Monastery of Yemrehanna Kirstos & Sarsana Mikael.
O/n Lalibela
Day 12 Lalibela:
Trek Asheton Maryam & Mount Abuna Yoseph, afternoon finalize Lalibela's Rock-Hewn Churches.
O/n Lalibela
Day 13 Lalibela – Kombolcha:
310km south via Gashena, Weldiya, Mersa, Hayk in to Dessie "Wolo Province" in to Kombolcha.
O\n Kombolcha
Day 14 Kombolcha – Addis Ababa:
346km south via Kemise, Debre Birhan in to Addis Ababa.
O/n Addis Ababa