Surma Tribe & Gambela, 14 days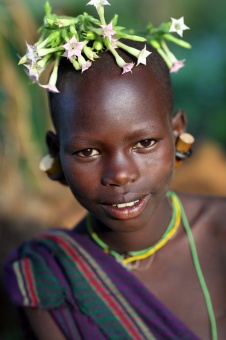 The Suri people are semi-nomadic cattle herders and live on the west side of the Omo River in the southwestern part of Ethiopia. This area is still much undeveloped, only unpaved roads lead to the heart of the Suri settlements: Kibish. The Suri culture demands that the men are trained as warriors as well as cattle herders. Stick-fighting events like the 'Zegine' (or 'Saginay', also commonly known as Donga, the Amharic name for the stick fights) take place to train boys and young men and also to allow them to meet women. This area is still quite untouched, and there are plenty of opportunities to see and experience the traditional life of the Suri tribe. If you are lucky you can see scarification, blood drinking ceremonies and other traditional rituals of the Suri people. All in all a wonderful experience.
The Gambela Park was established primarily to protect two species of endangered wetland antelopes: the White-eared Kob and the Nile Lechwe. Other wildlife reported as living here include populations of elephant, African Buffalo, lion, roan antelope, tiang, Lelwel Hartebeest, olive baboon, and guereza monkey. More information about the Gambela tribes and the National Park you can find in the video: Gambella's Hidden Treasures
14 days Surma & Gambela, Ethiopia.pdf
Day 1 Addis Ababa – Jimma:
Southwest 306km via Sebeta, Tefki, Waliso, Welkite in to Jimma "Oromo Tribe" ethnic group found in Ethiopia, in northern Kenya, and to a lesser extent in parts of Somalia.
O/n Jimma.
Day 2 Jimma – Mizan Teferi:
Visit Palace of Abba Jifar & Jimma Museum, 102km southwest via Seka in to Bonga & visit Kafa Coffee Biosphere Reserve, afternoon 102km via Shishinda in to Mizan Teferi "Bench Maji Zone".
O/n Mizan Teferi.
Day 3 Mizan Teferi – Tulgit:
Southwest 200km via Aman, Bebeka in to Dima "Agnuak Tribe" are a river people whose villages are scattered along the banks and rivers of southeastern Sudan and western Ethiopia, in the Gambela Region, via Akabu River 67km southeast in to Tulgit Village "Surma Tribe".
O/n Tulgit, Camping "Bush toilet & portable camp shower".
Day 4 Tulgit:
Explore Surma Tribe Villagers, Ceremonies & Cultural-events. According to Suri oral tradition, came to their present territory near Mount Naita about 200 years ago from the banks of the Nile River. The Surma have a sky god named Tuma. The Suri also believe in spirits and use medicine mento undertake sacrifices or prayers and directly send them to Tuma. Another belief of the Suri is the rain maker.
O/n Tulgit, Camping "Bush toilet & portable camp shower".
Day 5 Tulgit – Anjo:
20km to Kibish River & visit remote Surma Tribe Villagers. Piercing and lip plates are a strong part of the Suri culture. At the point of puberty most women have their bottom teeth removed in order to get their lower lip pierced. Once the lip is pierced, it's then stretched and a lip plate is then placed in the hole of the piercing.
O/n Anjo Village, Camping "Bush toilet & portable camp shower".
Day 6 Anjo – Bashagi:
40km to Bashagi Goldmines & visit young Suri extracting gold & overnight with them. 
O/n Bashagi Goldmines, Camping Police Station "Bush toilet & portable camp shower".
Day 7 Bashagi – Regge:
55km to Regge Village & explore Suri Culture, Ceremonies/Cultural-events & evening dance. To the Suri, the ideal time to stick fight is just after it rains. The fights are held between Suri villages, and the fights begin with 20 to 30 people on each side. Of these 20 to 30 people, all get a chance to fight one on one against someone from the other side. During these fights there are referees present to make sure all rules are being followed.
O/n Regge Village, Camping "Bush toilet & portable camp shower".
Day 8 Regge – Tulgit:
Bargoba Village/Chief Bargula & afternoon in to Tulgit "evening dance show".
O/n Tulgit, Camping "Bush toilet & portable camp shower".
Day 9 Tulgit – Teppi:
North via Dima, Bebeka, Mezan Teferi in to Tepi "Coffee Plantation".
O/n Teppi.
Day 10 Teppi – Gambela:
286km northwest via Gehca, Masha, Gore, Baro River in to Gambela.
O/n Gambela.
Day 11 Gambela:
Visit Nuer Tribe & Anuak Tribe.
O/n Gambela.
Day 12 Gambela National Park:
Safari Gambela National Park.
O/n Gambela.
Day 13 Gambela – Nekemte:
391km east via Gore, Bedele, Getema in to Nekemte "Oromo Tribe" Welega Province.
O/n Nekemte.
Day 14 Nekemte – Addis Ababa:
332km east via Gute, Ano, Guder in to Ambo for walking city tour & via Addis Alem,
Holeta in to Addis Ababa.
O/n Addis Ababa.