Trip report: 41-days to Harar, South Omo Valley, Bale Mountains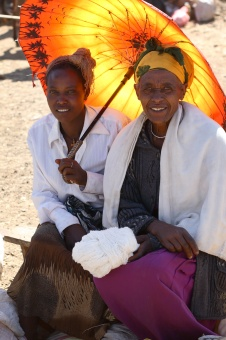 This report covers the long trip I had with our very important clients, Bernhard and his wife Franziska. It was not their first trip in Ethiopia with our company but was their third. They first traveled with me to south and continued with our other driver-guide to north. The following year was with me to South Omo Valley and Suri, southwest of the country. This time, which was the third time after two years of their second, they had a 41-day trip to cover many areas mentioned in the title. Bernhard and Franziska are real travelers who can cope up with harsh climates, tough trekking and climbings with also camping in hot areas. Their tolerance to different conditions and strength enabled them not to miss any sites and gave them the chance of camping right in the local community to experience their lives. 
Their friendliness, politeness and sense of humour made our long trip really enjoyable and will be one of my vivid memories. We were carrying out our plan with absolute flexibility based on discusstions like family membrs. As their driver-guide, I was just proposing and advising them so they could have enough information, but not deciding. Everything was teamwork. as a result, we finished the 41 days without any problems by visiting or seeing at least one site or ceremony or local markets except on days of long drives. Of course, many things could also be seen during those long drives.
Despite the fact that there was a plan to Suri according to the itinerary, we discussed and canceled it while we were on the go, as December is not a month to see activities like donga duels and other ceremonies. Besides, our clients wanted to have more time in Omo Valley. They instead had two nights in a Mursi village where the people are similar to Suris.
Finally, they said they might come one more time again for just Suris in a month when different activities, particularly donga stick fightings, take place. I honestly would like to take another trip with them.
Back