New trips in 2017: Adventure trip to Suri tribe in October
Are you interested in joining a trip in 2017? There are still free places available for the following trips listed below. Please leave a message in the comment box at the bottom of the page or write an email to sales@south-expedition-africa.com.
---
ETHIOPIA: Suri tribe, 14 days, October 21 - November 3, 2017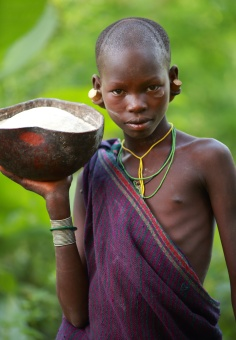 The Suri Tribe are semi-nomadic cattle herders and live on the west side of the Omo River in the southwestern part of Ethiopia. This area is still much undeveloped, only unpaved roads lead to the heart of the Suri settlements: Kibish. The Suri culture demands that the men are trained as warriors as well as cattle herders. Stick-fighting events like the 'Zegine' (or 'Saginay', also commonly known as Donga, the Amharic name for the stick fights) take place to train boys and young men and also to allow them to meet women. This area is still quite untouched, and there are plenty of opportunities to see and experience the traditional life of the Suri tribe. If you are lucky you can see scarification, blood drinking ceremonies and other traditional rituals of the Suri people. The Suri are very much like the Mursi tribe and practice the same traditions.
The women wear lip plates that are made out of clay.  The men in the tribe fight with sticks called Dongas.  Both the men and women scar their bodies.  If you see a Suri man with a scar, it usually means that he has killed a member of a rival tribe. Lip plates are a strong part of the Surma culture. At the point of puberty most women have their bottom teeth removed in order to get their lower lip pierced. Once the lip is pierced, it's then stretched and a lip plate is then placed in the hole of the piercing. Having a lip plate is a sign of beauty and the bigger the plate, the more cattle the women are worth. This is important when the women are ready to get married.
Please check the complete itinerary in the trip description below:
New trips in 2017 Suri tribe October 2017.pdf