Trip report: 22 days to Suri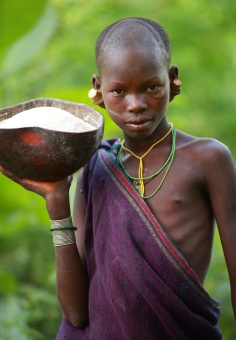 Our client, who had previously travelled with us to Omo valley, North, Afar, and Harar in previous years, took for the third time an expedition to Suri for 22 days. The trip went very well and he was lucky enough to see very important ceremonies of Suri's like Donga, Kilonga and Wololo. He watched young men and girls dancing and he also danced with them. Donga is a stick fighting, Kilonga is a ceremony to remember a very important old dead person which involves driving huge herds of cattle to the celebration place, and attracts big number of Suri's with dancing and gunshots in the air until the end and Wololo is a wedding ceremony. He had good shots and videos of these ceremonies. He visited also different villages to take pictures of very old people smocking on traditional tobacco pipes, women cooking and grain milling and so forth. He said he was very much excited to see all these ceremonies during his presence in the area.
Though it was raining and he was under weather for like three days, he wasn't stopped from doing his photography. He also understood the more the number of days stayed, the more the chances to see ceremonies as he saw a couple of tourists returning before they watched the above mentioned traditional ceremonies. He was also lucky as we were the only ones at the camping site by the river. Those who came after us were camping at the old site which he didn't like when he saw while passing it. He was also Ok with the local guide, called Korkodie, who worked for the Australian women last time. Our client said he was sure to come again just for Suris and perhaps for Hammer Tribe even though he couldn't tell when. Finally, please know the tourist office used to be located in Mizan has moved to Aman, a town on the way to Bebeka Coffee farm.
Submitted by Gecho, November 2017
---
Trip report: 13 days to Suri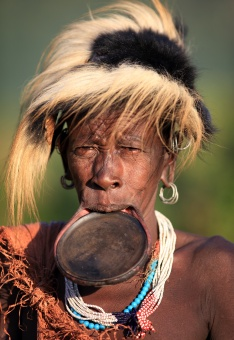 Our loyal client, who had travelled with us for three times already, chose us again and did his fourth trip for 13 days to Suri. He was so excited despite the fact that it was raining on the way and we had encountered a strong fluid to cross over. Even when we were around Kibish, the first few days were frustrating because of relentless rain. Later, the weather showed signs of improvements and made him able to have good pictures which he said was happy with. Some traditional activities that were good enough to his specific needs were also arranged for him.
Though Barkaman was in Kibish and he met him, Barkaman was not able to work for us since he was already employed by a Government office. We however hired another guide called Korkodie.  Our client said he was OK with him.  Finally, we together decided to leave Kibish one day earlier than planned to be on the safe side, because the river called Godere was so big and strong when we were going and we feared it could prevent us from crossing  back. We instead stayed two nights at Bonga guesthouse on our clients choice for he liked his overnight on his way to Kibish. To conclude, he expressed his satisfaction to me and didn't mind there weren't ceremonies. He even regretted he wasn't able to have more time with Suri's.
Submitted by Gecho, November 2017